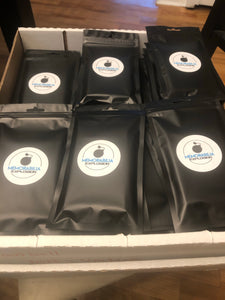 This product is simply awesome!
Pack guarantees:  10 cards including a guaranteed hit of relic, auto, redemption, booklet, graded or printing plate.
Card years:  Varied
Card condition:  Like new
 Series includes many big name autos and relics!  National Treasures, Flawless, Immaculate in several packs, Booklets & 1 of 1 printing plates
 Love factory sealed retail packs?  Bummed about not getting hits?  Check out this product with a guaranteed hit in every pack!
Shipping:  We do our best to ship ASAP!   Shipped with USPS/UPS.  Shipping is free for our customer's in the continental US on orders over $25.  We do ship all over the world, international shipping is paid for by the buyer.
Packing
Our packaging may change based on our supplier availability.  The color noted in the photo in our description may change.